Top 10 Nigerian fashion designers
To support local fashion designers, Chimamanda Ngozi Adichie, an award-winning author, launched in 2017 "Wear Nigerian campaign" in which she decided to dress with Nigerian brands in all of her public appearances. The reason for this campaign was to educate and encourage people to buy from future established designers and creators to encourage local trade and production.
Adichie announced her new adventure via her Facebook page, where she wrote …
"In the past few weeks, I've bought more Nigerian brands than I ever have in the past. I've discovered new names. I've been filled with admiration for the women and men running their businesses despite the many challenges they face. I'm particularly interested in 'inward-looking' brands, those for whom dressing Nigerian women is as important as other goals."
Nigeria is a fashion force not only on the African continent but also globally. Many Nigerian fashion designers have been recognized for their exemplary work and role in presenting the spirit, culture, and diversity of Nigeria.
These ten fashion designers are undoubtedly fashion designers who have put Nigerian and African fashion on the international map.
Folake Folarin – Coker 
Folake Folarin-Coker is the founder of Tiffany Amber, an iconic world-famous brand whose journey began in Lagos in 1998. Born in Lagos, she studied in Europe (England, Scotland, and Switzerland), where she had the opportunity to communicate and interact with different cultures when she was still young. Interestingly, she has a master's degree in petroleum law from Switzerland, but fate would have liked it, her insatiable passion for fashion led her to fashion design. Her curiosity for cultures led her to love and be interested in unique fashion creations that suit women of different tastes and preferences.
Folake's colorful and delicious creations have gained worldwide recognition, making her the first African fashion designer to show off her talent at Mercedes Fashion Week in New York for two consecutive years. It was also widely represented by international media such as CNN, and in 2013 it received an award for business at the WIE (Women, Inspiration, and Business) symposium. 
Also, she compiled a list of Forbes Power women in Africa.
She played a key role in achieving the brilliance of the Nigerian fashion industry.
"Now, Nigerian fashion has a personality of its own. There are so many amazing designers in Nigeria doing such great things. If you mention a designer, someone would likely know who you were talking about. Ten years ago, that wasn't the case. Lagos was more of a tailoring city back then as opposed to the designing city it has become," Folarin-Coker said.
Duro Olowu
Duro Olowu, based in London, born in Nigeria, shares Nigerian and Jamaican roots and is the name of the house of the Nigerian and global fashion industry. He is undoubtedly a Nigerian personality respected in fashion design, known for his unique and vibrant African prints. He has a great talent for working with patterns, and his creations include the rich culture, spirit, and diversity of the Nigerian people.
His interest in fashion started when he was only six years old and continued during his childhood. Olowu's talent has gained worldwide fame and recognition from the best clients of his name, such as Michelle Obama, Solange Knowles, Uma Thurman, and Linda Evangelista, among others.
Although a lawyer by profession, fashion was Olowu's first love. During his career, he has received numerous awards, which increases his visibility in the global fashion industry. In 2005, he was the first designer to be named New Designer of the year at London Fashion Week without hosting a fashion show.
At the African Fashion Awards 2009, he was named the Best international designer and was one of the six nominees for the grand prize of the Swiss Textile Federation of € 100,000. The British and Americans Vogue named his waist patchwork "Duro," as the "Dress of the Year." of Olowu's famous quotes is: "My job is not to tell women what to wear; it offers them great opportunities. "
Deola Sagoe
Deola Sagoe is a famous Nigerian fashion designer, entrepreneur, and founder of The House of Deola. Her unique approach to designing vivid and vivid prints was brought to her by a worldwide follower who includes eminent personalities such as Oprah Winfrey and Will Smith, who recognized her for celebrating African prints.
After starting her career in 1989, Sagoe earned a master's degree in finance and administration and studied at both the University of Lagos and the University of Miami. She is a woman with many layers, and this is reflected in her multi-layered creations. Her exclusive creations, attitude, and elegance are inspired by fabrics with a traditional Nigerian touch and a Western aesthetic.
She designed the Odua label for her mother, who played an important role in popularizing her in the industry. Her recent work includes the hand-dyed Adire fabric made by women from Yoruba. Her reputation extends beyond the African continent, gaining her fame and respect.
In addition to presenting her couture collection at Cape Town and New York Fashion Weeks, Deola won the MNET / Anglo Gold African Designs 2000 Food Award. United Nations World Food Program appointed her Nigeria's ambassador to the program, "Catwalk the World: Fashion for Food." Their goal was to raise funds to halve the number of hungry people around the world, especially children, by 2015.
Her three daughters, Teni, Tiwa, and Aba Sagoe, took after their mother, they own the famous fashion brand CLAN. Sagoe believes that the African fashion industry has come a long way and still has a lot of room to develop "Just in Africa, there is a huge market, without even going to Europe… and the US, there is a huge market there," says Sagoe.
Lisa Folawiyo
Lisa Folawiyo is an independent Nigerian fashion designer known for the way she creatively combines traditional fabrics from West Africa with modern clothing techniques. She is known for her Jewel by Lisa label, which she launched in 2005 and has since become a global fashion brand with showrooms in New York and Nigeria.
Folawiyo uses Ankara, a traditional West African fabric, to create attractive and luxurious custom prints. She has her line of fabrics, which also produces accessories like jewelry and purses. The line J Label, her distribution line, highlights the best of Nigerian cultures by incorporating Afropop with an exquisite urban design. Some of her famous fans include Beyonce, Kelis, Tasha Smith, and Eve.
Besides Nigeria, her collections are exhibited in the United Kingdom, the United States, and South Africa. She participated in New York Fashion Week 2010 and Paris Fashion Week 2010. Some of her careers include the winners of the African Fashion Prize in 2012, and she appeared at Vogue Italy in 2012. In 2014, the Daily Wear Daily (WWD) named Folawiyo among eight emerging talents. In 2015, the BOF500, a prestigious list of international brands, ranked designers among the best fashion brands that have influenced the world scene.
Lisa Folawiyo studied law at the University of Nigeria but decided to continue her love of fashion. She admits that her style is simplified but innovative, and she also likes to play with colors and mix patterns. It has been reviewed by international media such as Style.com, Gotham, and Women's Wear Daily.
Soares Anthony
Soares Anthony is an energetic and talented young fashion designer who focuses on his men's clothing line, Soares Anthony. His work is inspired by native Nigerian fabrics, as well as Japanese design cuts. His creations are masculine, but modern and trendy, transforming a simple look into a sophisticated design that incorporates elegance.
As a child, Anthony began to acquire his love of fashion, where he spent time sketching and drawing. He enjoys working with colors, and his incredible talent has been seen in his pieces worn by famous politicians and celebrities. Young and successful, he is a talented fashion designer who will have to face it because his name continues to ravage the national and global fashion industry.
His pieces are also sold worldwide in the United Kingdom, the United States, and France. Anthony uses his talent to influence the community through a mentorship program he directs that helps promising young Nigerian creators to support and compete on a global platform. Nature, colors, and works of art are the main sources of his inspiration.
Lola Faturoti
Nigerian fashion designers
Lola Faturoti is a fashion designer from Nigeria based in New York with a wealth of experience and a recognized international reputation. Faturoti, from Ondo State, went to school in London before moving to New York in the early 1990s. Her fashion journey started in childhood when she helped her grandmother, who was also a fashion designer. "I got interested in fashion because my grandmother was a designer. She designed traditional Nigerian clothes. That was my first introduction to fashion, which I hated because I wanted to be out playing instead of picking out seams!"
Her inspiration comes mainly from her roots, and Faturoti made a name for herself in New York when she wore a dress to celebrate the election of Barack Obama as President of the United States. The dress had these bold Yoruba words: "Oluwa gba, President Barack Obama," which means "God bless President Barack Obama."
She confirms that her mother played an important role in defining her personal style. "My mother has traveled a lot in London and New York. She bought me a lot of clothes, so I started to dress differently. I think it was the first presentation I wanted to be different through clothing," says Faturoti.
In New York, she worked at Boutique Charivari, where the company's president, Barbara Weiser, discovered her potential and passion for unique fashion and helped launch her first fashion collection. The passion for African fashion spreads deeply. "Everything begins for me with the print and fabric, which usually has some shine," exclaims Faturoti. Her deep African roots, as well as her vast global experience of living and working in New York and Milan, were fundamental to her success and international attention.
Frank Oshodi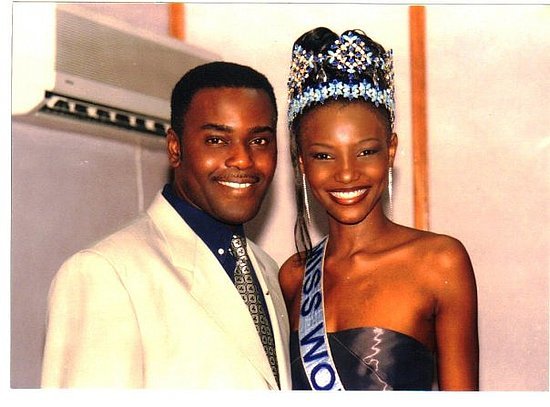 Frank Oshodi is a perfect presentation of how Nigerian cultural diversity is embraced by unique fashion design trends. With rich industry experience spanning more than 25 years, Oshodi began his modeling career and got jobs in leading fashion houses such as Dakova and Nikki Africana.
He also worked in popular television commercials like Maclean's before joining the ranks to become a model presenter. He got into choreography before finally launching his makeup label, House of Bunor and Fashion Designing. His big break followed when Silverbird hired him as a designer and makeup artist for Agbani Darego, who was the winner of Miss World 2001. Since then, Oshodi's career has constantly rewarded him, which has allowed him to win many customers around the world.
Effortless beauty and elegance are the foundation of Oshodi's career and are reflected in the years he has spent in the industry. He played an important role in several events, such as West African Fashion Week 2008, which aimed to showcase the best Nigerian fashion. There is no doubt that Oshodi's journey so far is only the beginning of the future successes that await him on the Nigerian fashion scene. It is definitely a force you must face.
Zizi Cardow

Zizi Cardow has crucially demonstrated the Nigerian fabric and culture around the world. She launched her own brand Zizi, which proudly expanded her profile by letting the world know how unique and elegant Nigerian fabric is. She is credited with promoting fabric in Ankara, which has earned her world renown, as the fabric is used today for events on the red carpet around the world.
When she was young, Cardow hoped to become a forensic profiler, but after leaving her first fashion job at just 17 years old in an Italian boutique, she sparked her interest in fashion. As an ambassador of popular African fashion, she has felt her success as a designer on numerous international catwalks in Cape Town, Milan, Paris, the United States, and other worldwide destinations.
Her global revolution to make African fabrics internationally appreciated has won numerous awards, with a long list that continues to grow. In 2001, after only a year in the fashion industry, she won the prize for the best prestigious designer of the year during a Nigerian fashion show. With this award in her name, the world noticed her work, and her work has been exhibited on global platforms.
In 2002, other prices were knocked on her door. The DAME award recognized her for her exceptional achievements in the fashion field, and she also won the Moritz Style Selection award and Nigerian Women's Awards. Since 2002, she has won numerous awards year after year, increasing her importance in the industry. Other important recognitions that Cardow has achieved include the United Nations Ambassador for Peace 2010, the Global Leadership Award 2010, the 2010 Youth Achievement Award, the 2010 Fashion and Style Award, the 2010 merit award Africa heritage, the 2009 Award of Excellence, and 2007 African Role Model Leadership Award, as well as many others.
Her client base is large and is made up of famous political figures and celebrities. The main international media, such as CNN, SABC, Channel O, and FTV, were also presented. Zizi Cardow has returned to society through several mentorship programs that have won awards.
Mai Atafo
Mai Atafo is a famous Nigerian designer of custom men. It has become the center of attention after launching its Mai Atafo brand, which has enjoyed success on the domestic scene and the world fashion scene. Throughout his career, his goal has been to uniquely portray the personality of a confident and elegant Nigerian gentleman.
Atafo is an IT professional trained with a Master's degree in Information Systems and Technology from the UK. After returning from the United Kingdom in 2002, he held various positions in the corporate sector until 2010, when he resigned from the fashion industry.
The Atafo clothing brand has grown in popularity while attracting the best customers. He dressed personalities like The Most Beautiful Girl in Nigeria in 2005, Omowunmi Akinnifesi, and I.K. Osakioduwa. In addition, other celebrities on their list are Mercy Johnson, 2Baba, Waje, Gbenro Ajibade, and Stephanie Okereke.
Atafo also launched his fashion line, Weddings by Mai, in 2011 with his creations presented at various important events. Atafo has received numerous awards throughout his career to celebrate and appreciate his excellent competence. Among the awards he has received are City People Fashion and Style's Hottest New Male Designer, he was the winner for two years in a row, LFW Menswear Designer of the Year, Mode Men Magazine's Fashion Designer of the Year, and Allure's Most Stylish Man of the Year.
Atafo believes that fashion is an integral part. "Fashion goes beyond clothes. It is also hair and all those elements put together," says Atafo.
Ade Bakare
Ade Bakare is an established Nigerian fashion designer whose flawless African designs have caused waves around the world. After being in the fashion industry for two decades, his modern creations became popular, which is why they became a household name in Nigeria and London. His work is a perfect example of feminine sophistication.
Bakare was born and studied in the UK, after which he got a job in some of the best and finest fashion houses of Christian Stambolian and Victor Edelstein. In 1991, he founded Ada Bakare Couture and began selling his collections to various stores in England, Scotland and the Channel Islands.
His work ranges from exclusive evening dresses to elegant wedding dresses, hats and perfumes. He deals with the best clients in Nigeria and London, who have recognized his exaggerated fashion talent. Bakare also has fragrances called Breeze and Ade Breeze, which is a jersey line of his brand.
Bakare's works have been exhibited worldwide in New York, Vienna, Mozambique, Morocco, Paris, and Cape Town. In addition to carrying many English personalities and celebrities in his rooms, he also has as clients first ladies, senators, and ministerial wives. He has also participated in many programs designed to inspire future designers. The Ministry of Youth and Culture recognized Bakare for its role in supporting young and future fashion designers.
Bakare has also received awards from the Paris Academy and the publication Condé Nast. His dresses are known as classics with a modern twist and an arrangement of different types of fabrics. Bakare is known and celebrated for his famous and lavish shores of gazar and organza for women.